ShymkentBuild 2022
6th South Kazakhstan International Building & Interiors Exhibition
ShymkentBuild is the main professional exhibition of the South-Kazakhstan region in the field of construction and finishing materials, window technologies, ceramics and stone, HVAC sector.

ShymkentBuild allows the company to reach its maximum potential and find key partners among the most significant representatives of the construction industry of Shymkent, Turkestan region, Kazakhstan and CIS countries.
Download the brochure of the exhibition 2019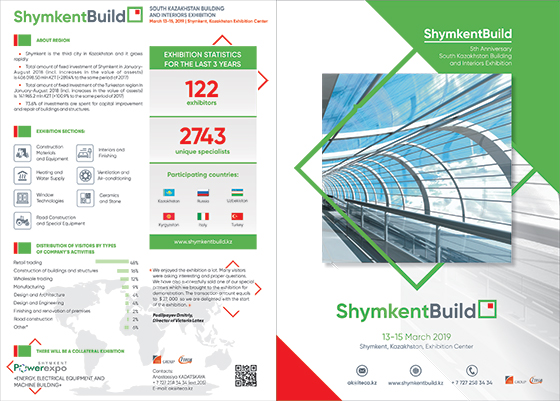 ABOUT REGION
Since June 19th, 2018 Shymkent city has been assigned a status of the republican significance, on an equal with Almaty and Astana megalopolises. The administrative center of the South-Kazakhstan region was moved to Turkestan, and the region was renamed as the Turkestan region.
Shymkent is one of the leading industrial and economic centers of Kazakhstan with a well-developed infrastructure. The city has more than 180 large and middle-sized industrial enterprises. Non-ferrous industry, machine building, chemical, oil refining, and food industries have been developed.
During the last five years, the total area of Shymkent city has grown by 43 thousand ha and today equals to 117 thousand ha.
In comparison to 2017 construction has increased twice in Shymkent in 2018.
62.3 billion tenge will be utilized at the first stage of development in Turkestan, planned for 2019-2021.
The most ambitious construction project in the history of Shymkent city is a construction of the ShymkentCity microdistrict. The total construction area is 427 ha, where 324 multistoried dwelling houses, seven schools, 23 kindergartens, 60 ha garden, sports complex for 8,000 places, concert hall for 2,000 seats and other administrative, cultural, social and domestic facilities will be constructed.
Operating industrial zones: "Ontustik", "Tassay", "Ordabasy".