SPIRA BERGA LLP Almaty Plant of Polyethylene Pipes will take part at the ShymkentBuild 2019
Spira Berga Almaty Plant of Polyethylene Pipes was one of the first enterprises in the Republic of Kazakhstan that launched production of the up-to-date, high-quality polyethylene pipes. By now, the plant produces polyethylene pipes for gas- and water supply systems, sewerage facilities, electric and fiber optical cable protection, drainage and irrigation structures. Based on the complex inspection of local goods producers performed by the Kazakhstan Su Arnasy Association of Enterprises for Water Supply and Sanitation of the Republic of Kazakhstan the Spira Berga plant has passed attestation and is recommended as a supplier of pipe products for projects financed by the state.
Spira Berga will demonstrate at the exhibition:
COUPLING JOINTS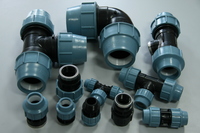 Coupling joints are designed for connection of pipeline ends.
Spira Berga Plant, being an official distributor of UNIDELTA Italian company, offers a wide range of couplings, fittings, collars, taps, plugs, flanges, cast outlets, T-joints, adapters and so on.
Nominal pressure under 20 С:
Compression fittings:
Ø 16-63 mm – 16 АТМ
Ø 75-90-110 mm – 10 АТМ
Light clamp saddles 6 АТМ
110mm fittings and over are made to order
Products are manufactured in compliance with UNI, ISO, DIN, AFNOR standards
Thread in compliance with UNI-ISO 7/1, DIN 2999, BS 21
Flanged connections in accordance with UNI 2223, DIN 8063
Diameters from 16 mm to 450 mm
GAS SUPPLY POLYETHYLENE PIPES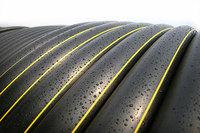 Polyethylene pipes for underground gas supply networks are designed for transportation of combustible gases used as raw materials and fuel for industrial and utility purposes.
Our plant's pipes are produced of 100% prime black-filled polyethylene HDPE. Pipes are made of polyethylene representing compounds of PE100 polyethylene.
Pipes are produced with diameter from 16 to 450 mm, with operating pressure from 6 to 200 АТМ. The pipe color is black with four marking stripes. Pipes produced in linear segments are produced with length up to 12 m. Pipes with diameters from 16 to 75 mm are made in bunches with length from 350 to 2000 m. Pipes with diameter 90 and 100 mm are also made in bunches with length up to 150 m.
Gas supply polyethylene pipelines are made according to ST RK 4437-2014, GOST R 50838-2009.
The company will also demonstrate other domestic products.
Visit Spira Berga's stand at the ShymkentBuild Exhibition on March 13-15, 2019.
Arrange your visit now and get free e-invitation on the website