QuadCore - Innovative Core Material for Sandwich Panels
Why is QuadCore a revolution in the world of thermal insulation?
PIR / PUR is the best solution for combining technical and consumer properties. However, they have one weakness - insufficient fire resistance properties.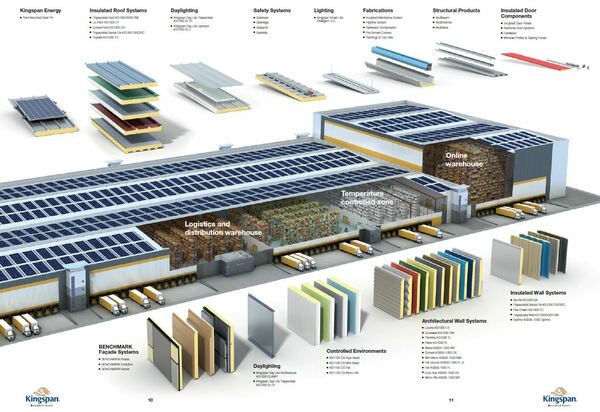 The QuadCore material's innovativeness is in the fact that it not only has improved thermal insulation properties (λ = 0.018 W / mS), but also assigned a fire hazard class K0 (15), which greatly expands the horizons of its use.
To provide a heat transfer resistance index of 5.55 m2 · C / W, panels based on QuadCore material are 9 cm thick, while mineral wool panels require a thickness of 20-25 cm.
Choosing QuadCore saves you extra money. The thinner the panel, the cheaper and more convenient transportation, storage and installation.
The Kingspan group follows three main strategic directions, which it has maintained over the years:
1. Represent Kingspan - wherever you are.
Already, you will find Kingspan in 120 countries of the world, but we always strive to expand our presence. We are proud to offer services and products created for each local market and provided by local specialists - but with the advantage of a global network of support and experience.
2. Innovation. Solving problems is our vocation.
There are manufacturers who do the minimum necessary to comply with regulatory requirements. It's different with Kingspan. Our investment in R&D highlights us and provides us with significant advances in technology.
3. Lead the change: everyone deserves to live and work in buildings with low energy consumption and low carbon content.
We help our partners understand the benefits of moving from traditional insulation and building technologies to high-performance solutions.
Projects
From the UK and Ireland to the newest territories in our geography, customers work with us because we give them the opportunity to build better.
We invite you to the Kingspan stand at ShymkentBuild from March 13 to 15.
To visit the exhibition - get a ticket online