Roofing and wall sandwich panels, metal, profiled sheet, block modules
The company «PolimerMetall-T» LLP was established on October 03, 2003. The purpose of the company was the introduction of advanced technologies in the construction industry in the Kazakhstan market. In early 2004 it was decided to acquire a line for the production of sandwich panels with non-combustible mineral wool insulation based on basalt fiber
In July 2005, the first launch of the line was made.
The company also operates equipment for the production of additional elements of any complexity up to 6 meters, equipment for longitudinal and transverse cutting of rolled metal, which has no analogues in Kazakhstan.
In order to improve the quality of products, the company is certified for compliance with international quality standards and national standard of the Republic of Kazakhstan 9001-2016.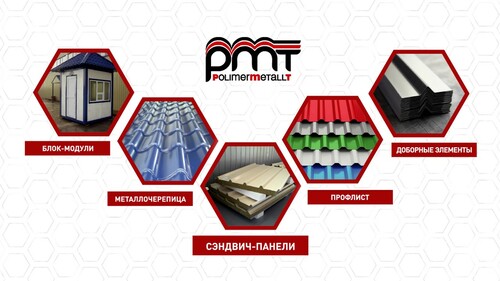 All manufactured products of Polimermetall-T LLP have certificates of conformity of quality and fire safety. The company has developed specifications that regulate the production in accordance with building regulations and GOST ( technical standards) adopted in the Republic of Kazakhstan.
Production of "PolymerMetall-T" is in demand in all regions of Kazakhstan. There is experience in supplying products to the markets of Kyrgyzstan, Uzbekistan and Turkmenistan.
At the ShymkentBuild exhibition, PolymerMetall-T will present:
1. Wall and roof panels of metal three-layer with a mineral wool insulation based on basalt rocks of the type "Sandwich", intended for industrial and civil construction
2. Metal of the "Sprinter" type, representing cold-bent sheet profiles of steel, galvanized, with a protective polymer coating, with the shape of "SPRINTER" corrugations
3. The wall panelling, which is a sheet profile with a trapezoidal shape of corrugated NS 34, steel, galvanized with a protective polymer coating, for use in construction for flooring and wall fencing
4. Block-modules are collapsible, which are mobile buildings intended for residential and industrial needs.
Visit the «PolymerMetall-T» stand at ShymkentBuild exhibition from 13 to 15 march.
to go to the exhibition - get a ticket on the website