Industrial wastewater treatment facilities from WL-Astana
WL-Astana is engaged in: engineering or assistance in the engineering of local treatment facilities for treatment of storm water overflows, household and industrial wastewaters, oil containing and fat containing wastewaters, neutralization of caustic and acid waste, antisepsis of infectious waste. Supply with aerators, coolers, extensive range of pumping equipment, burners for floor tanks, heating zone management systems, fan coils, chillers, accumulating plastic tanks.
WL-Astana LLP is an official exclusive representative of companies such as:
«Resetilovs» SIA (Latvia);
«Wavin-Labko» Oy (Finland);
«ECONET Group» (Finland);
«Waterix» (Finland).
WL-Astana will demonstrate at the ShymkentBuild Exhibition:
Industrial wastewater treatment facilities; bio-gas installations; a wide range of water treatment equipment; equipment for sludge processing and dewatering; cleaning of ponds from silting and occlusion; recirculation and aeration of rivers, lakes, water bodies, ponds for golf clubs, holding basins, ponds for fish farms, etc.
Sewage pumping stations and treatment facilities; de-salting equipment and condensate treatment for heating power stations; aerators, mixers, hot water and industrial water coolers.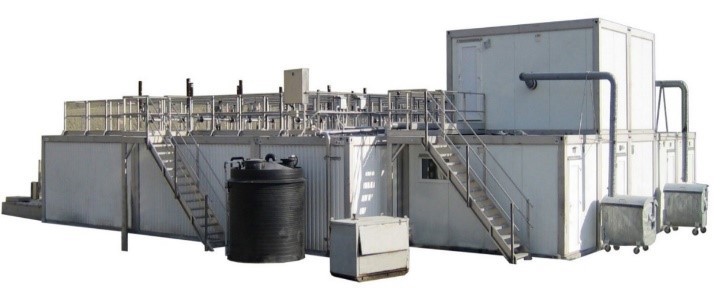 WL-Astana LLP offers the following range of products:
1. Local treatment facilities from WAVIN-LABKO Company;
2. Local treatment facilities from RESETILOVS SIA Company;
3. ECONET Group's equipment for treatment facilities for municipal administration;
4. Membrane expansion tanks from NEMA Company;
5. Sewage pumping stations from ROTONS - European quality for wastewaters pumping. The sewage pumping stations have in-built concrete underlying layer;
6. Pumps from WILO (Germany), GRUNDFOS (Germany), FLYGT (Swiss), DAB for heating systems, water supply, fire fighting, hot water supply, and water discharge;
7. Accumulation plastic tanks from KSC company for water and oil products with capacity from 50 to 25 000 liters.
8. Aerators, mixers, and coolers from WATERIX company, for aeration of the city, industrial wastewaters, cooling of feed water, ventilation of natural water bodies, ponds of city settlement zones, basins for fish farms, elimination of smelling from lakes.
9. Burners for floor tanks from VANS TECHNOLOGY Company. Zone heating management systems from Vans Climate Control, fan coils, chillers.
We invite you to visit a «WL-Astana» stand at the ShymkentBuild exhibition on March 13-15, 2019.
To visit the exhibition – get a ticket on the website