Navien high-performance boiler cascade systems
IVAN Heating, LLP was founded on October 1, 2006. The primary activity of the company is aimed at professional selection, implementation, assembly and delivery of heating and water supply equipment throughout Kazakhstan.
At the moment, we are representatives of such major companies as Navien, Cheil-Boiler, Celtic, Hanil, Vesbo, Wilo, KSC, Shinwoo, Buderus. Several building and design organizations, which are engaged in providing heating and water supply equipment for residential compounds as well as commercial establishments, cooperate with us. Our specialists are constantly improving their qualifications through participation in various trainings and seminars.
Navien boiler cascade system

Navien boiler cascade system requires minimum space for installation and reduces the operating costs, as it corresponds most accurately to the partial loads and limits the quantity of operational units.
Characteristics: 1. High efficiency • Fast load response and high performance • High reliability due to minor changes in the amount of heat which comes even in case of failure of some part of equipment • Hygiene increase and thermal losses reduction by applying tankless hot water supply • Possibility of boilers/water heaters proportional control 2. Simple installation and lightness, when increasing the quantity equipment units • Mobility and ease of installation owing to small size • Possibility of practical arrangement for medium and large buildings • Convenience of installation in small premises • Precision control of boilers/water heaters which is available for small and large industrial premises.
Cascade system advantages:
• Gas flow reduction • Highly efficient condensing system • Flexible operation according to hot water supply/HVAC system use. • Boiler operational control range 57:1 • Water heater operational control range 60:1 (at 30 kcal/h) • Optimizing control with limiting of operational units quantity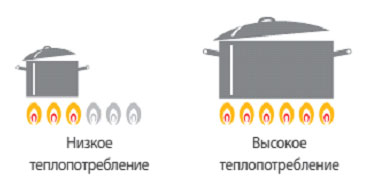 Practical and simple maintenance • It is easy to increase the number of boilers/water heaters
Possibility of optimal design and hygiene increase • It is possible to choose optimal capacity for hot water supply/HVAC systems • Quality protection of the hot water supply system on the basis of circulating water supply without a storage reservoir
Ease of installation • Installation time reduction when adapting the unified module system. • Installation capability due to small dimensions and PVC-smoke ducting. • Reduced area of installation due to a compact shell.
Comfortable living environment • Comfortable living environment due to user-friendly equipment operation • Possibility of control from the dashboard or with a wire remote control function.
Investment cost reduction • It is cheaper than boilers/water heaters of similar capacity • Makes it possible to take into account the indented use and dimensions during designing • The cascade system reduces investment and maintenance costs much more than ordinary boilers/water heaters do
Our company is going to present Navien high-performance boiler cascade systems at the ShymkentBuild 2015 exhibition which will take place in Shymkent on 11-13th of March.